USW MEMBERS IN ANACORTES OK TESORO DEAL
Updated May 24, 2012 10:38 pm
This page viewed 196 times.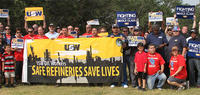 United Steelworkers (USW) members at the Tesoro refinery in Anacortes, Wash., have voted to accept the company's latest contract offer. Shortly after USW members protested May 3 outside Tesoro's shareholder meeting in San Antonio, the company presented a revised "last-and-final offer" that reportedly included some key concessions on workers' benefits.
USW members at Tesoro's refinery in Mandan, N.D., also voted to ratify the contract, while members at the company's refineries in Los Angeles and Martinez, Calif., continue to vote this week.
POSTING OF COMMENTS FOR GFT MEMBERS ONLY