Top News
CUSTOMS OFFICERS SUBMIT TESTIMONY ON POST FITNESS STANDARDS
Officer members at the Guam Customs and Quarantine submitted a written testimony to Senator Telena Nelson regarding concerns with the P.O.S.T. Commission AFI PFQT (Physical Fitness Qualification Test) Requirements set in Public Law 32-232 which will affect the employment status of our Law Enforcement Officers. While the officers agree that physical fitness and a healthy lifestyle is great, the increased duties and job requirements for Law Enforcement Agencies and the lack of equipment and personnel to meet those demands prevent officers from obtaining an ideal change. Officers expressed in the testimony that PL 33-232 in its current form will endanger the people of Guam. The Officers ultimately ask that they have a voice in the decision-making process as there was no representation from the non-management level. The inclusion of rank and file officers from the various Law Enforcement Agencies as voting members in the P.O.S.T Commission would establish and maintain fairness and equity across the board and provide a means to track service related ailments and injuries in comparison to the Military standards.
The following are a few points, questions and concerns brought up in the testimony:
• Under the PL 32-232 and the POST Commission's PFQT, as testified by all Agency and Department leaders, except for Marshals, will lose a large part of their work force Law Enforcement Officers and in turn create a domino effect that will be put on the backs of the few that pass this military standard. The other effect is the criminal element that want this to happen and the potential loss of those with the expertise in these different facets of law enforcement that will be irreplaceable.
• If the AFI standard or any other standard used in the PFQT is imposed on the current Law Enforcement community as a condition of employment, will there be compensatory provisions incorporated? Is there a potential that the law illustrates an Unconstitutional or In-organic position with regards to the Fair Labor Standards Act or the American with Disabilities Act and have these issues been addressed?
• PL 32-232 and the PFQT may be in conflict with the fact that the US Federal Government and the US Labor Laws, the US Department of Labor , the US Equal Employment Opportunity Commission, and the US Fair Labor Standards Act has oversight in all commercial, private business, State and Federal Government employment practices governed under the United States of America for equitable employment without threat of discrimination or any unconstitutional law, regulation, policy or practice as a condition of employment.
• The practice of the Grandfather clause for certain laws passed by the Guam Legislature have been afforded in the past and recommended for this situation.
GFD & GFT PREPARE TO WRAP UP CBA NEGOTIATIONS
GFD Chief Negotiator, Assistant Fire Chief Michael Uncangco, and GFT Chief Negotiator, Daniel Del Priore met on Thursday to finalize the GFT – GFD Collective Bargaining Agreement for Firefighters, Fire Service Specialists and E911 Emerg
GFT TO WORK WITH GDOE ON BRIP CLAIMANT LIST
GFT representatives have received several claims from members who are owed for the BRIP Pay (Bonus, Rewards and Incentives Program). GFT will now be working GDOE in obtaining the appropriate documents for each person on the claimant lis
DEADLINE FOR GFT BRIP CLAIMANT LIST
The last day to be included in the GFT BRIP Claimant list is on Thursday, June 15, 2017. Teachers who are owed for BRIP (Bonus, Rewards, and Incentives Program) pay and would like to be on the claimant list may email irish@gftunion.com or
GFT AND GDOE WORK ON BRIP PAY
The Guam Education Board has expressed their intent in rectifying the BRIP (Bonus, Rewards and Incentive Program) pay issue pending documents indicating the owed payments. GFT and GDOE will be working together in gathering the following
GFD SEEKS INPUT ON PROMOTIONS
While negotiations continue between GFT and the Guam Fire Department, promotions will also be discussed at the next meeting. Assistant Fire Chief, Michael Uncangco, has reached out to GFT Chief Negotiator, Dan Del Priore, to obtain inpu
LAW ENFORCEMENT MEMBERS ATTEND HEARING ON P.O.S.T.
An Informational Hearing regarding the P.O.S.T. (Peace Officer Standards and Training Commission) was held today at the Guam Congress Building by Committee Chair, Senator Telena Nelson. Concerns regarding the Physical Fitness Test and t
TEACHER BRIP PAY: CALL GFT
The Guam Education Board has referred the matter regarding the owed BRIP Pay (Bonus, Rewards, and Incentives Program) to their finance committee for review and research pending submission of documents from DOE. Teachers who are owed the
ATTN: TEACHERS OWED BRIP PAY
GFT members and stewards have reached out to DOE Superintendent, Jon Fernandez, and the Guam Education Board in getting the BRIP (Bonus, Rewards, and Incentives Program) payment made that have been owed to teachers for several years now.
GFT URGES TO CHANGE EDUCATOR CONDUCT LAW
GFT Representative, Dan Del Priore, continues to work with the Legislature in amending Public Law 32-236 regarding Educator Conduct. Del Priore is in active meetings and discussions with the Office of Senator Joe San Agustin, who oversees
GENERAL MEMBERSHIP MEETING MONDAY, MAY 15
The next GFT General Membership meeting will be on Monday, May 15, 2017 at the UOG SBPA Multipurpose room #129 at 6pm. All members are encouraged to attend for updates on collective bargaining agreements, current issues, upcoming events
GFT REACHES OUT TO GUAM DOL ON HAZARD PAY
GFT representatives met with the Guam Department of Labor Director, Sam Mabini, and Administrator, Greg Massey, to discuss issues regarding hazard pay for employees at the Guam Behavioral Health and Wellness Center and nurses at the Guam Memo
Revised PTEP
Hay Pay Grievance
GFT E-Update Newsletter
Sign up to receive GFT's E-Update sent out weekly and stay up to date on events and issues!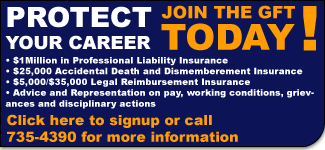 1

2

3

4

5

6

7

8

9

10

11

12

13

14

15

16

17

18

19

20

21

22

23

24

25

26

27

28

29

30

Marks Sporting Goods - 10 % Off Reg. Priced Items
X-Ray Pro - 20% off on all studies that are less than $100. 25% off studies or multiple studies that are more than $100. Members who are 59 years old and above (ID required) will receive 50% off the regular list price.
Sylvan Learning Center - Present your GFT membership card at time of inquiry and receive $25 off when you schedule a Sylvan Skills Assessment for Reading or Math!
Ace Auto Port -

15% Off All Services (exception of service packages but extra services will be added)

Pats Tinting & Detailing - $10 off Window Tinting & $15 off Detailing
View All Benefits

Shell Guam -

Lucky 7 Gold Card Double points!

Chamorro Gardens - Discount on Security Deposit
T.G.I. Friday's -

15% discount on member's entree

Ross Hearing Aids -

10% Off discount on hearing aids

Marianas Footcare Clinic -

15% off sole products

School Essentials (The Parent Teacher Store) - Minimum purchase of $5.00 earns a 10% Discount
Law Office of Gumataotao & Pole -

GFT Members will receive the following benefits without charge for legal fees (This is subject to Attorney's Availability): • Durable Power of Attorney • Confirmation of Community Property (without Probate) • Summary Administration of Estates Under $20,000. The law office will represent GFT members for Change of Name, Guardianship (adult, minors and Ad Litem) and Adoption for a flat legal fee. All Attorney fees, costs and other fees, including but not be limited to Court filing fees, service of process and summons shall be borne by the Client. All professional work is subject to ethics standards and availability of counsel. Must schedule an appointment to see an Attorney. Call 475-0200 to schedule your free consultation.

Todo Maoleg - 10% off
Tropic Soap - All orders over 35 pieces will get wholesale price of $1.30 each.
Graphic Center -

$14 for a case of paper (5 reams)

Learn Chamorro -

$5 Off Learn Chamorro education DVD

GFT Member Price $15 (regular price $20)

Neni Trendz - 10% off purchases (Purchases available via email contact: russ@nenitrendz.com) Look for Neni Trendz on Facebook for assorted baby accessories & Guam's very own Neni Bottoms Cloth Diapers!
Blue Boy Muffler & Auto Services -

10% off any service (excluding oil changes)

Heritage Boat Charters - 10% Off Weekday Fishing Charters
Guam Renewable Energy -

Install a solar panel system at no cost to you! No maintenance fee. No repair fee. No insurance fee. Say you're a GFT member and receive $100 in Gift Certificates to Pay Less. Conditions apply.
DOA
Marky Teliu
Amelita Topacio
Joseph Martinez
Christopher Renguul
Ricky James Camacho

GMHA
Eileen Mercado

DOE
Ernest Turner
Charlene Cruz

Jun 24 Birthdays
Debra Dela Cruz
Ariel Delos Reyes
Ronnie Guimarey
Tommy Villanueva